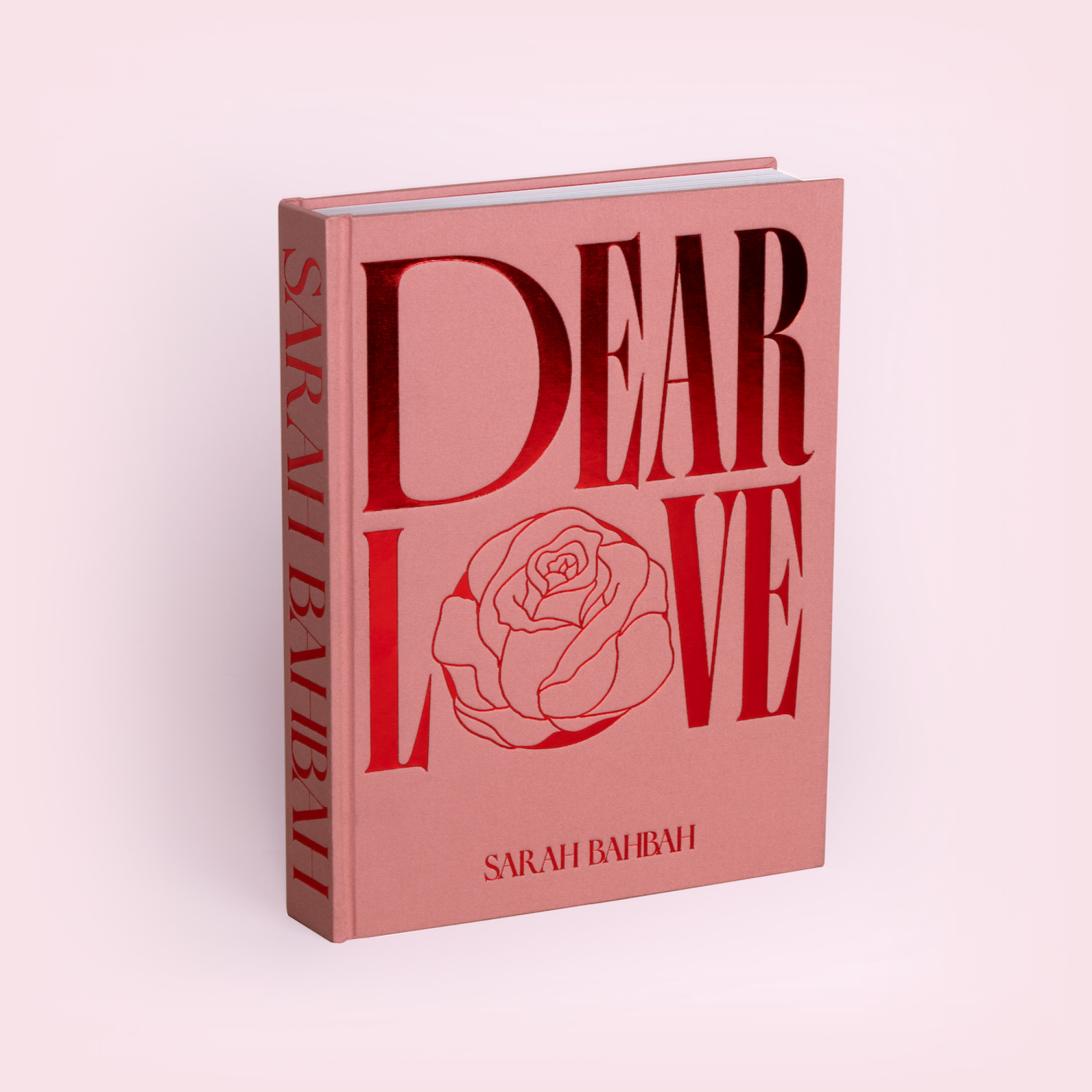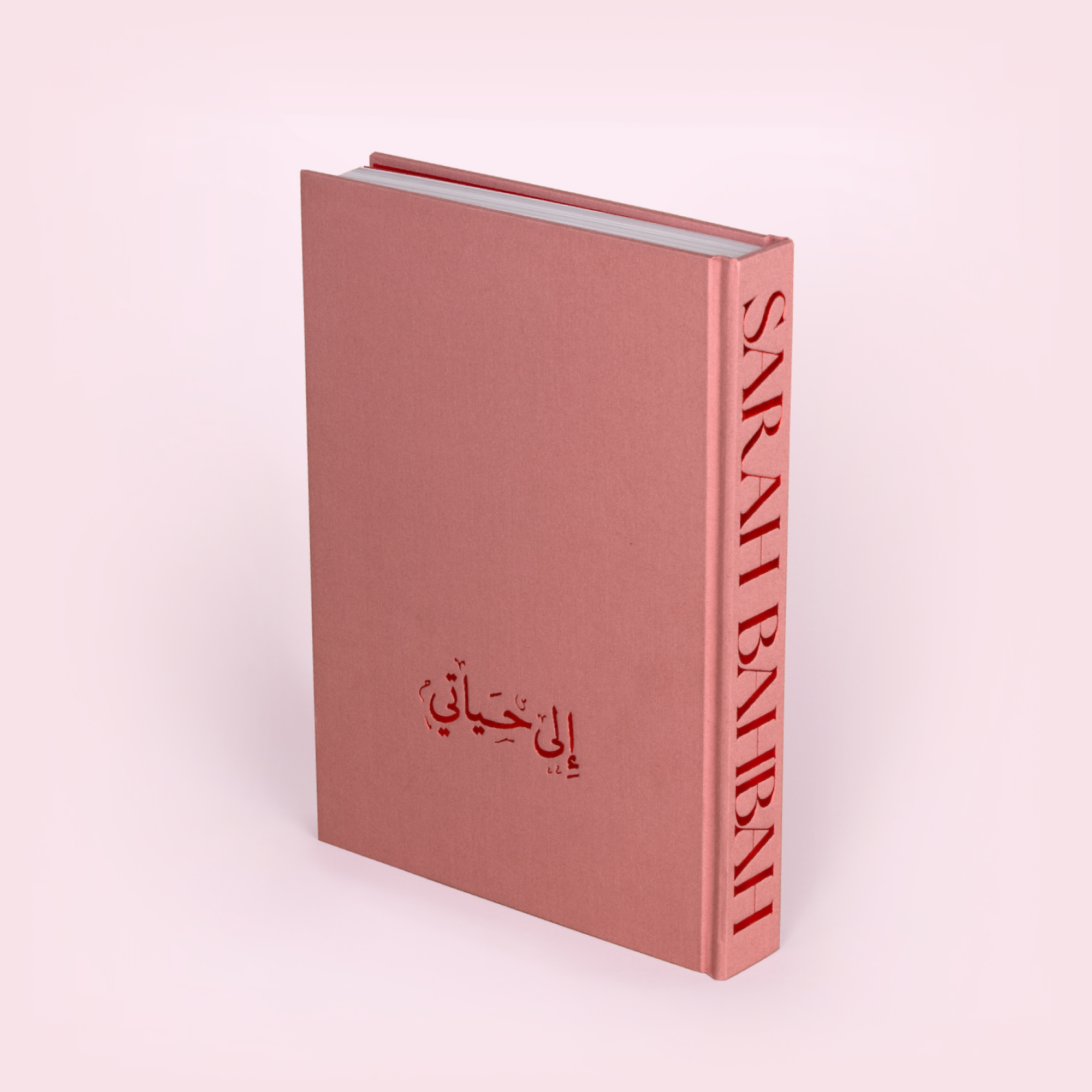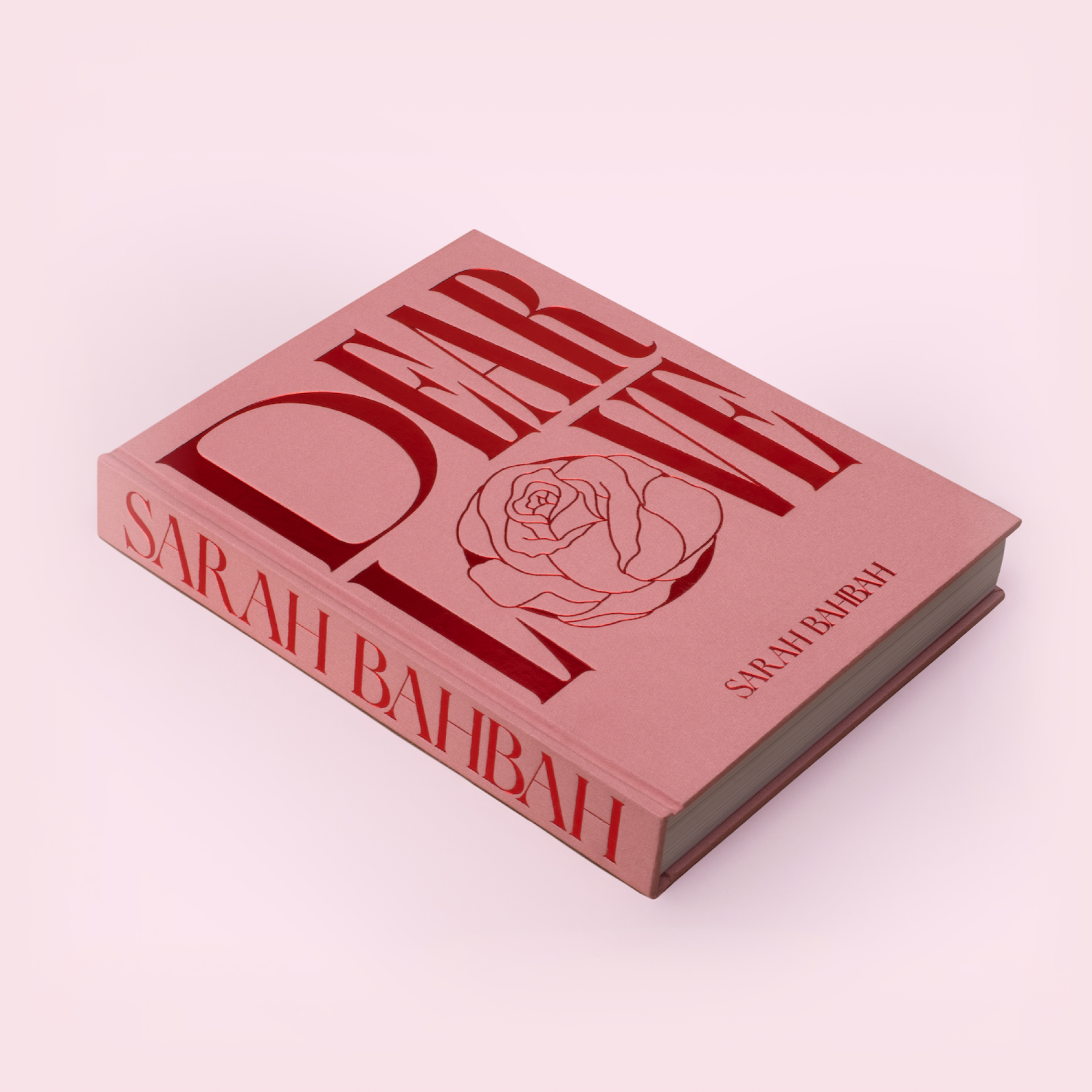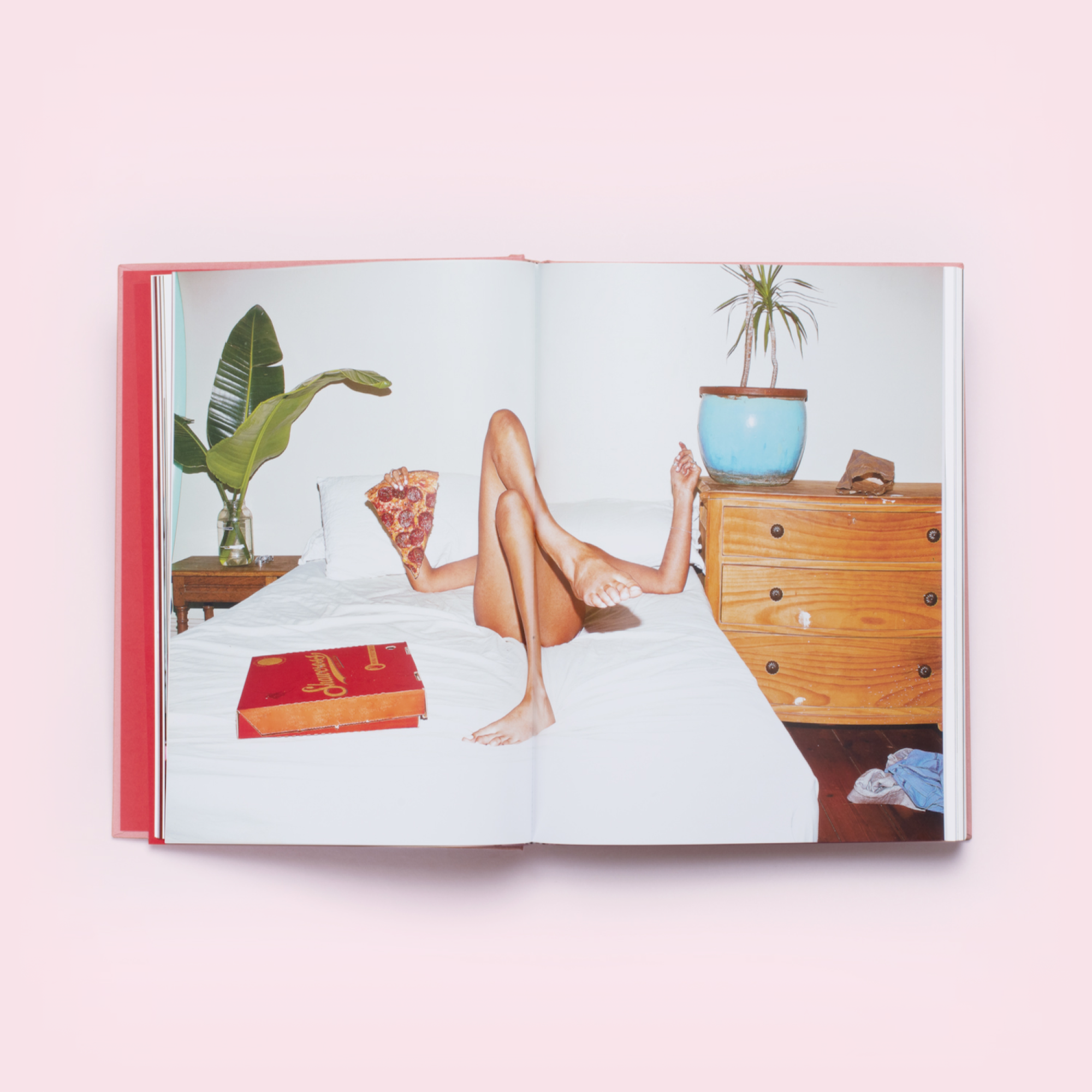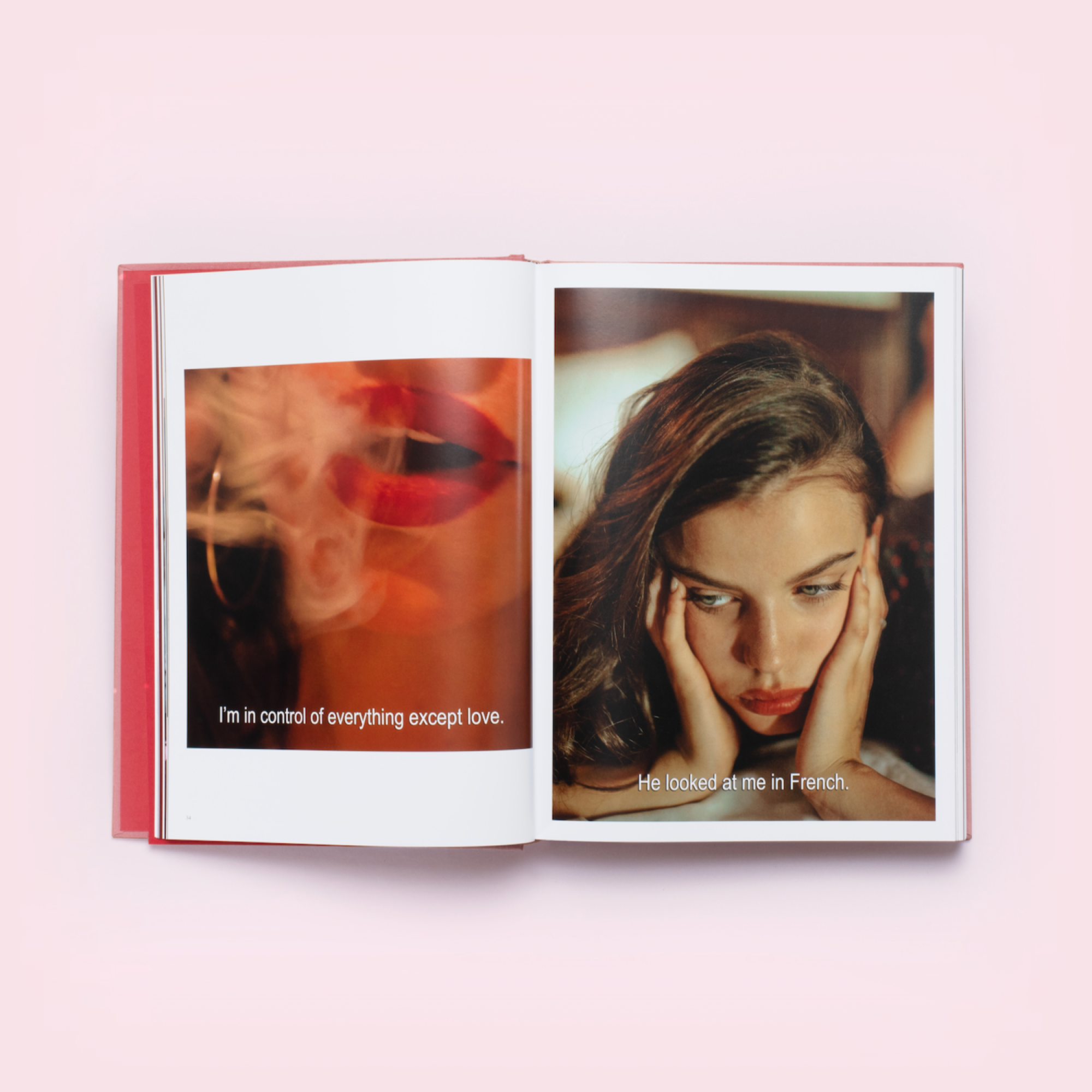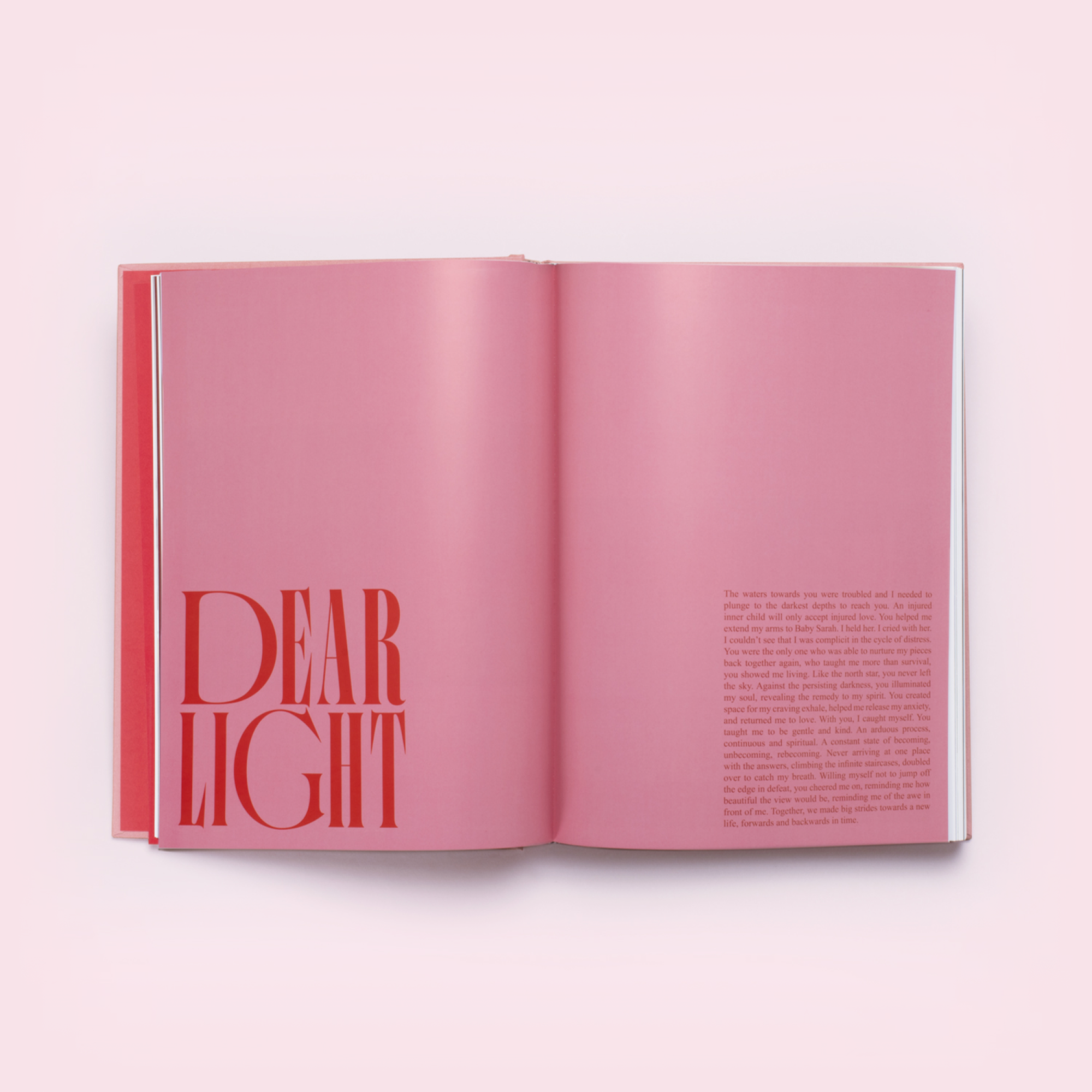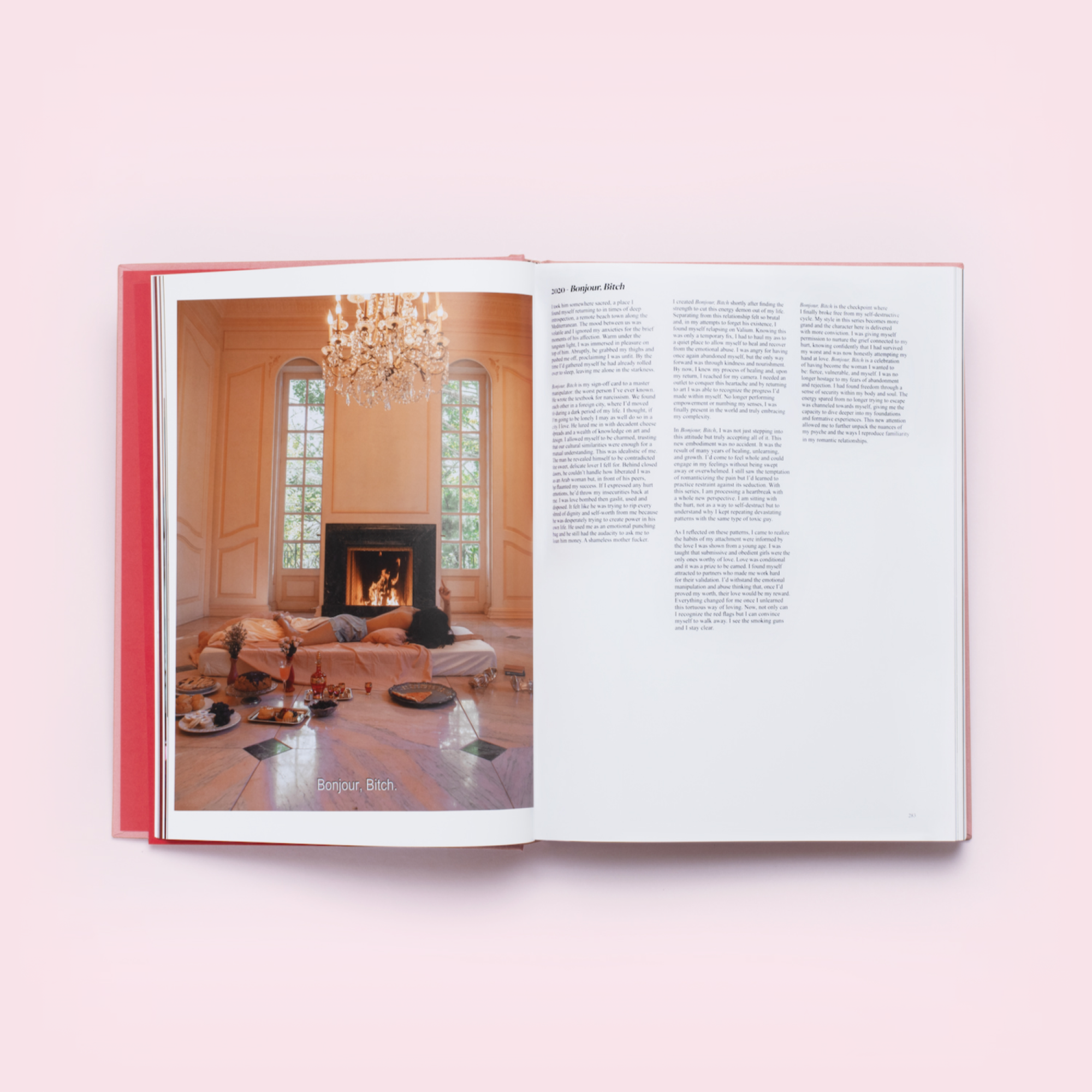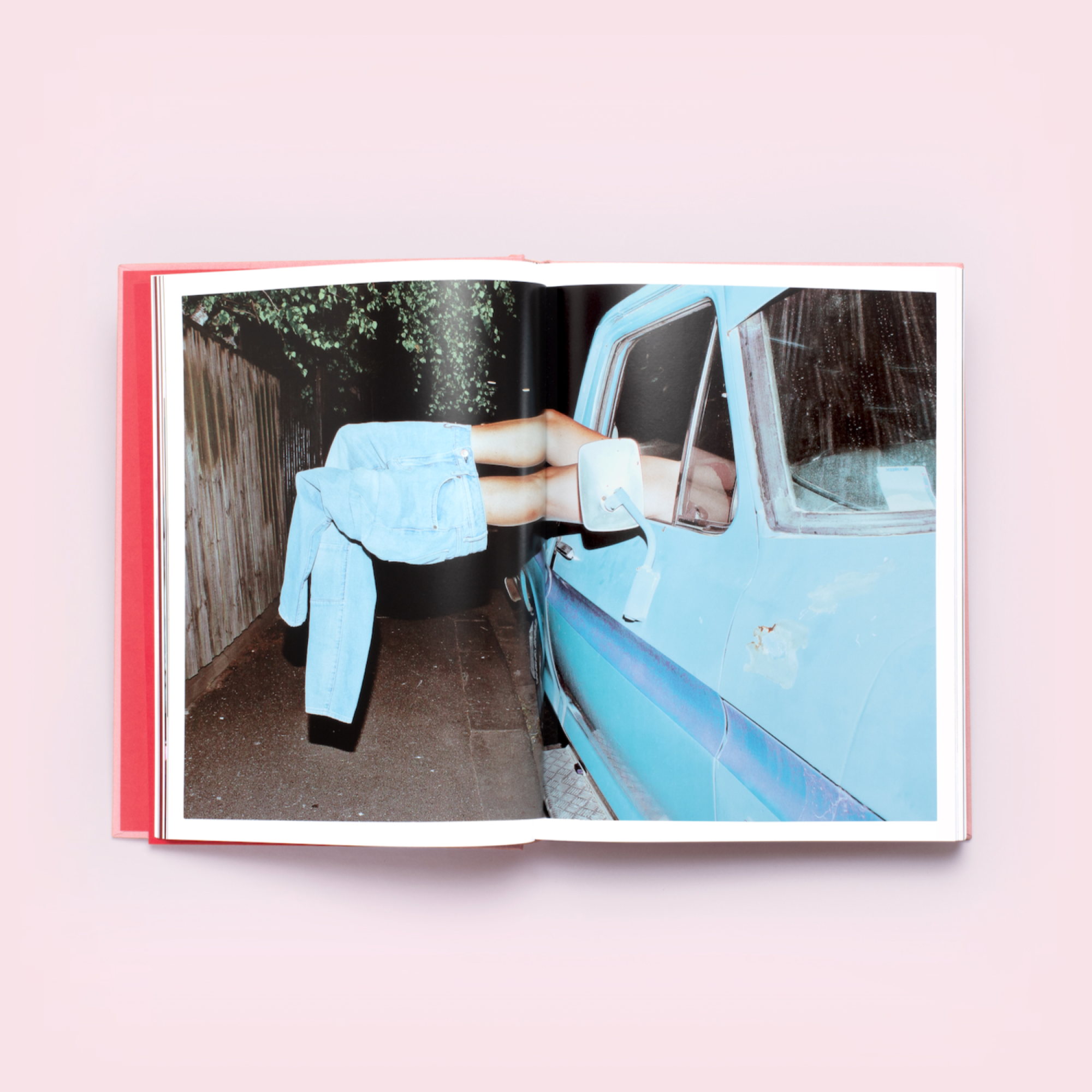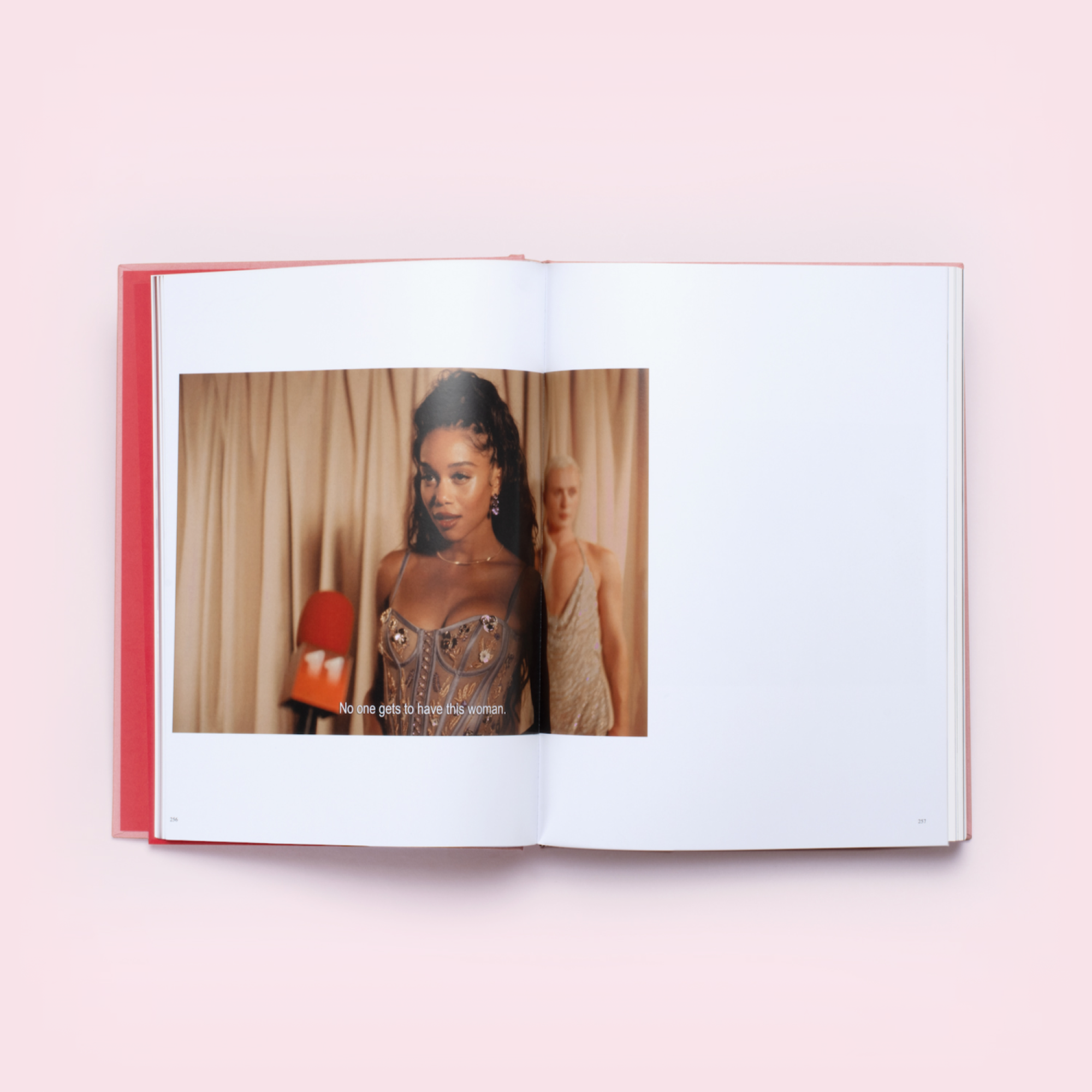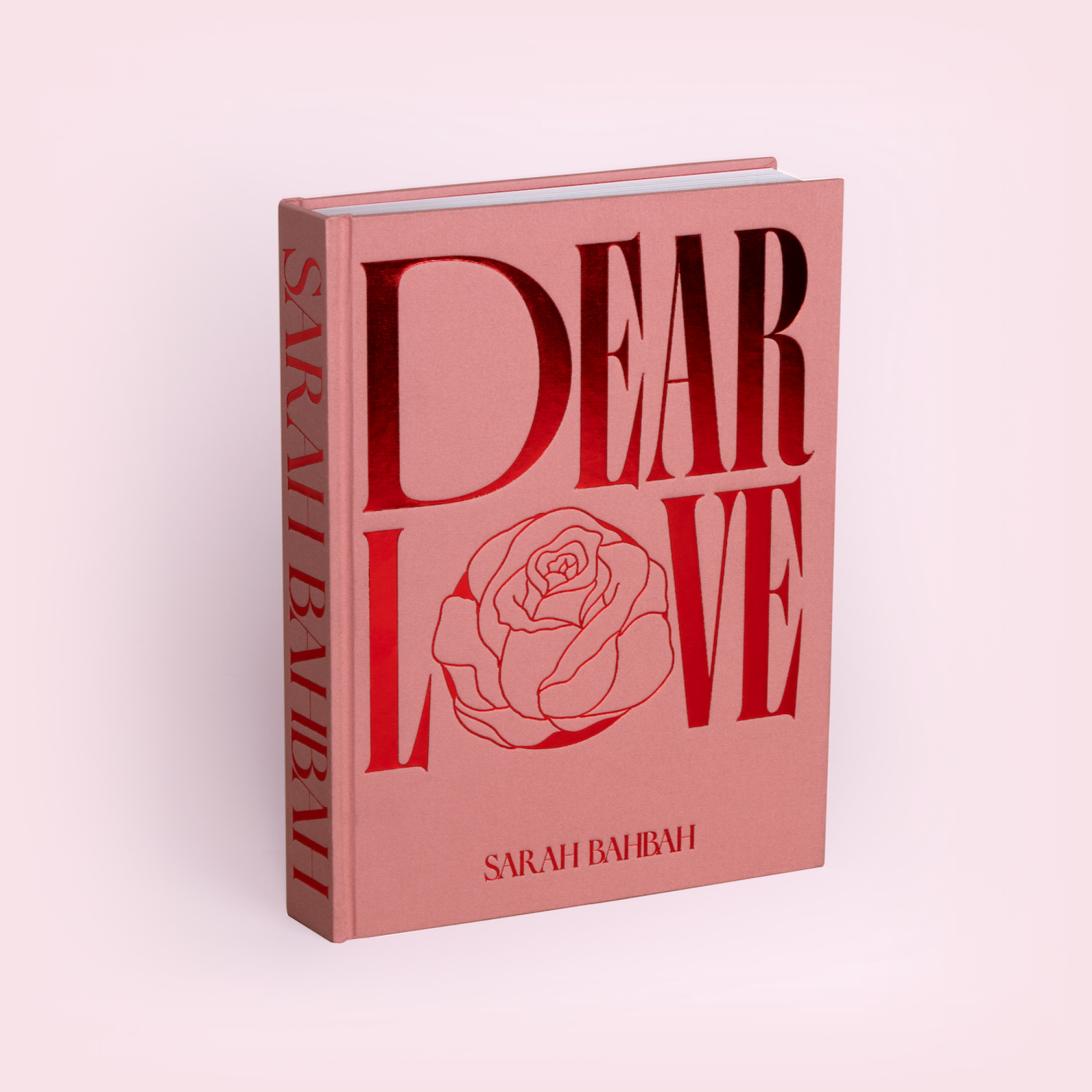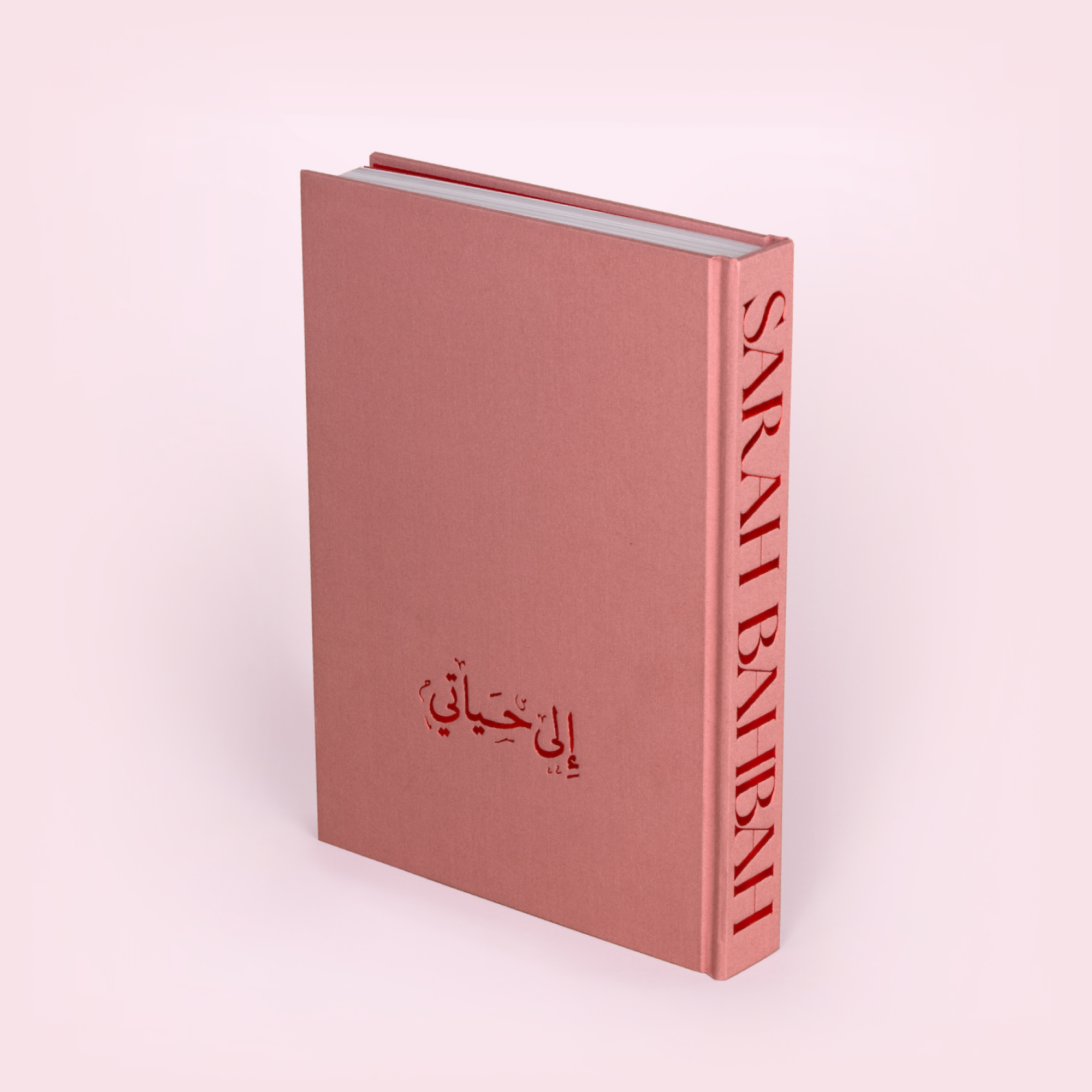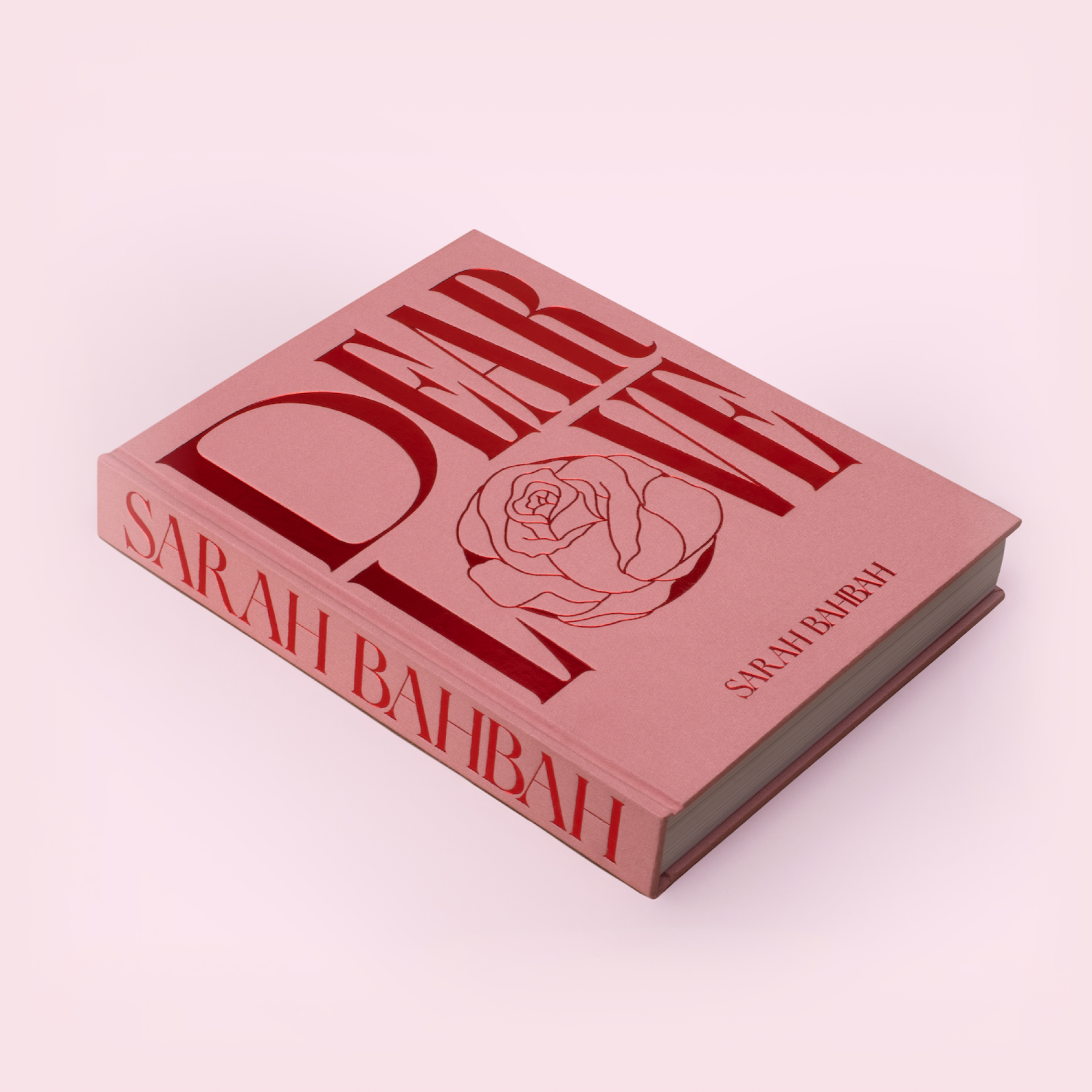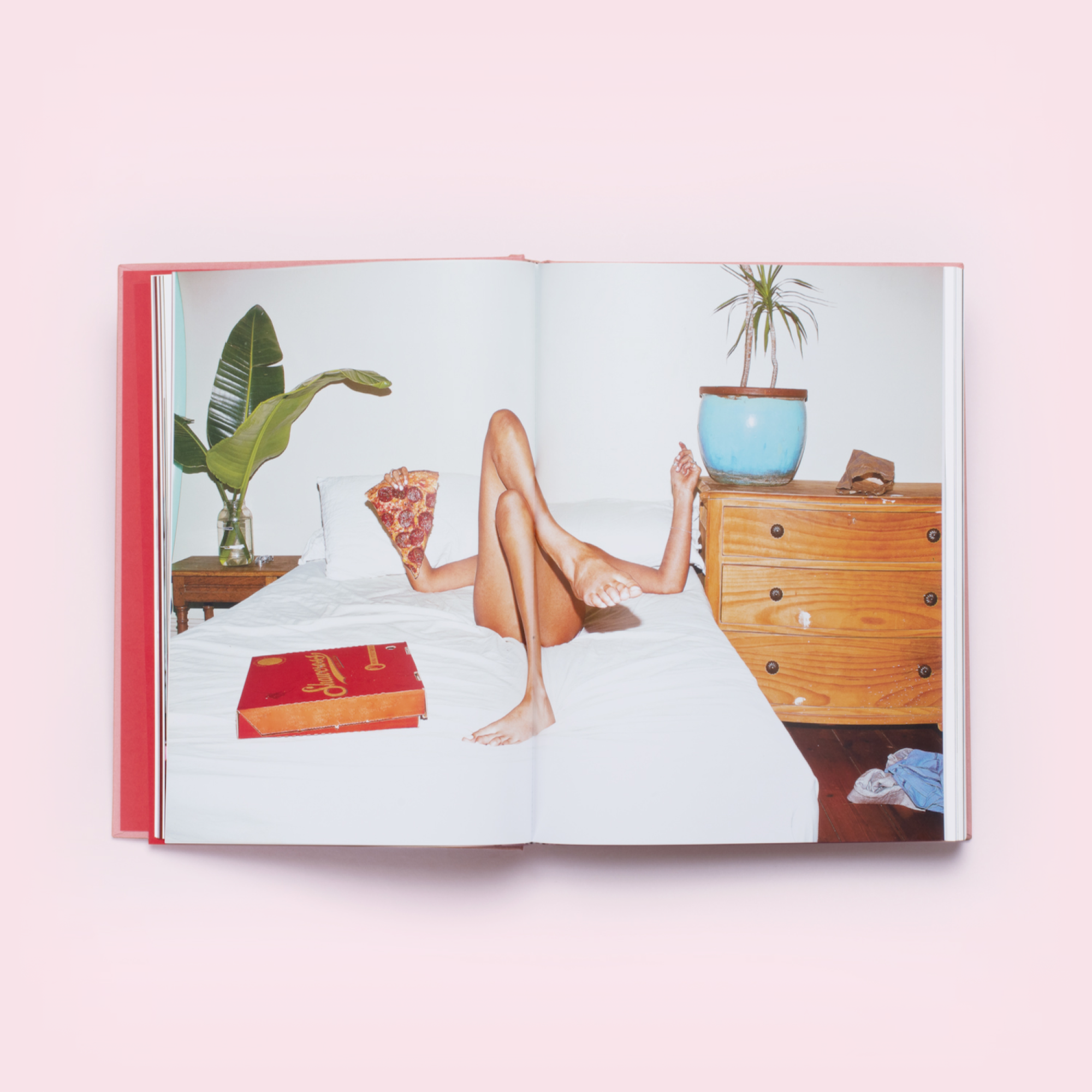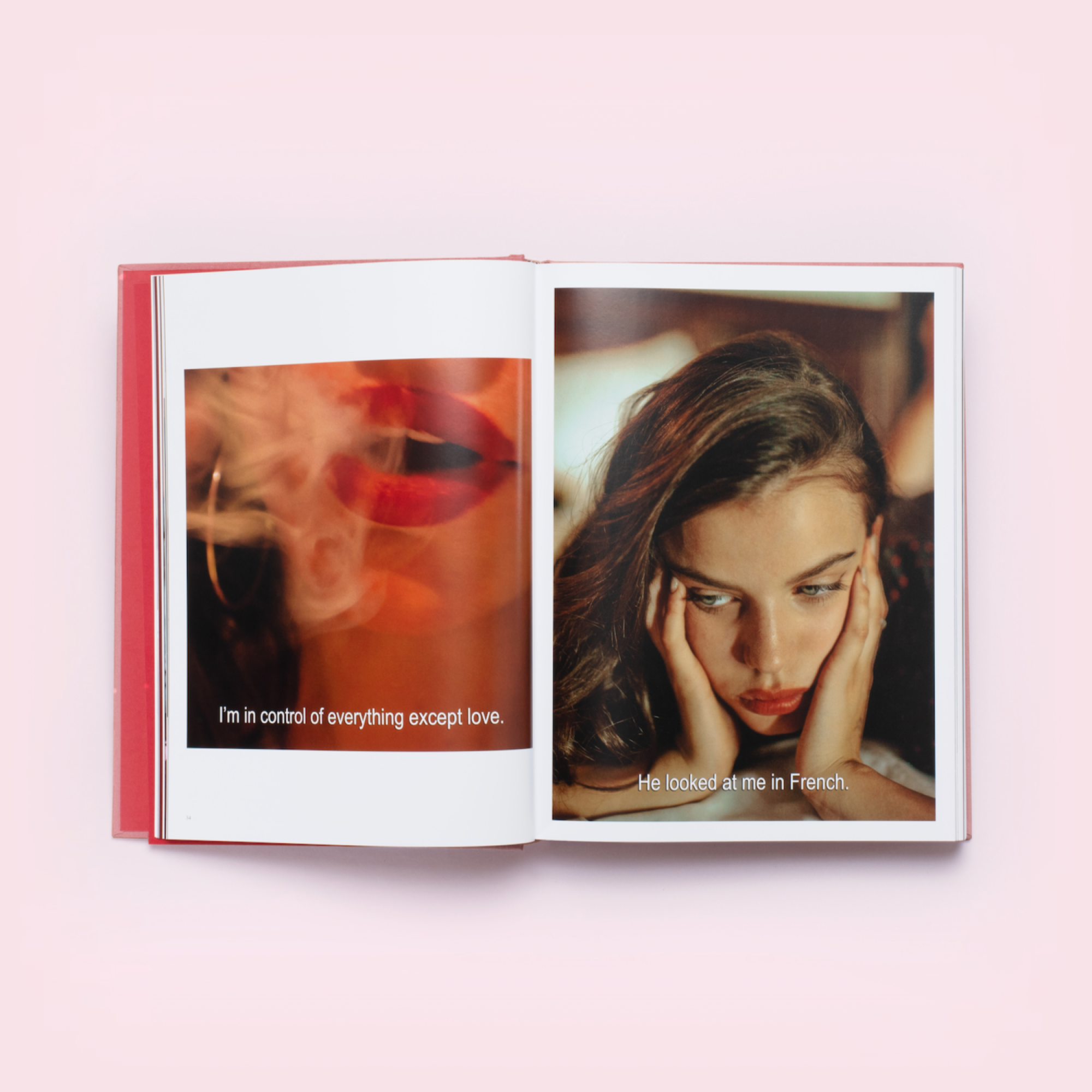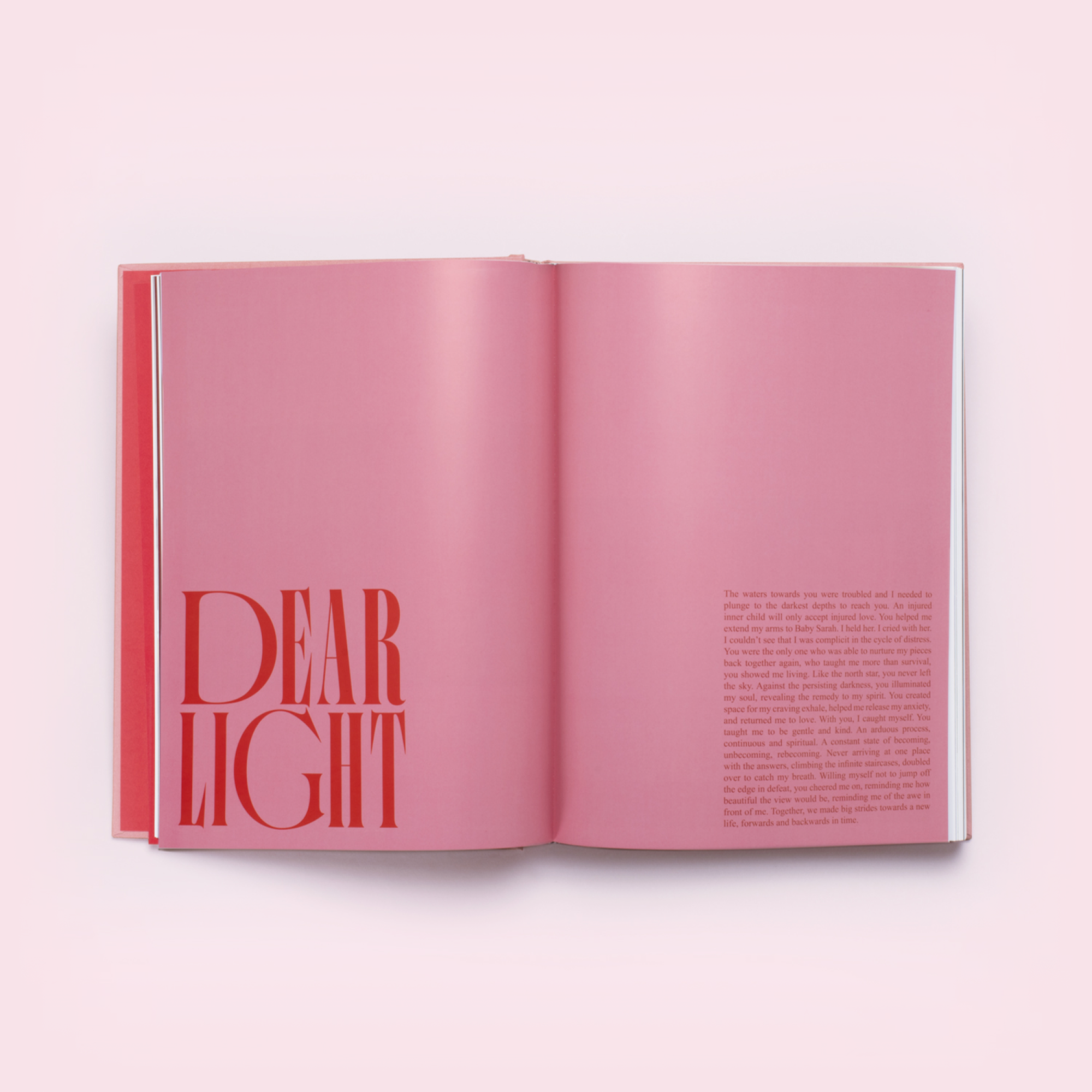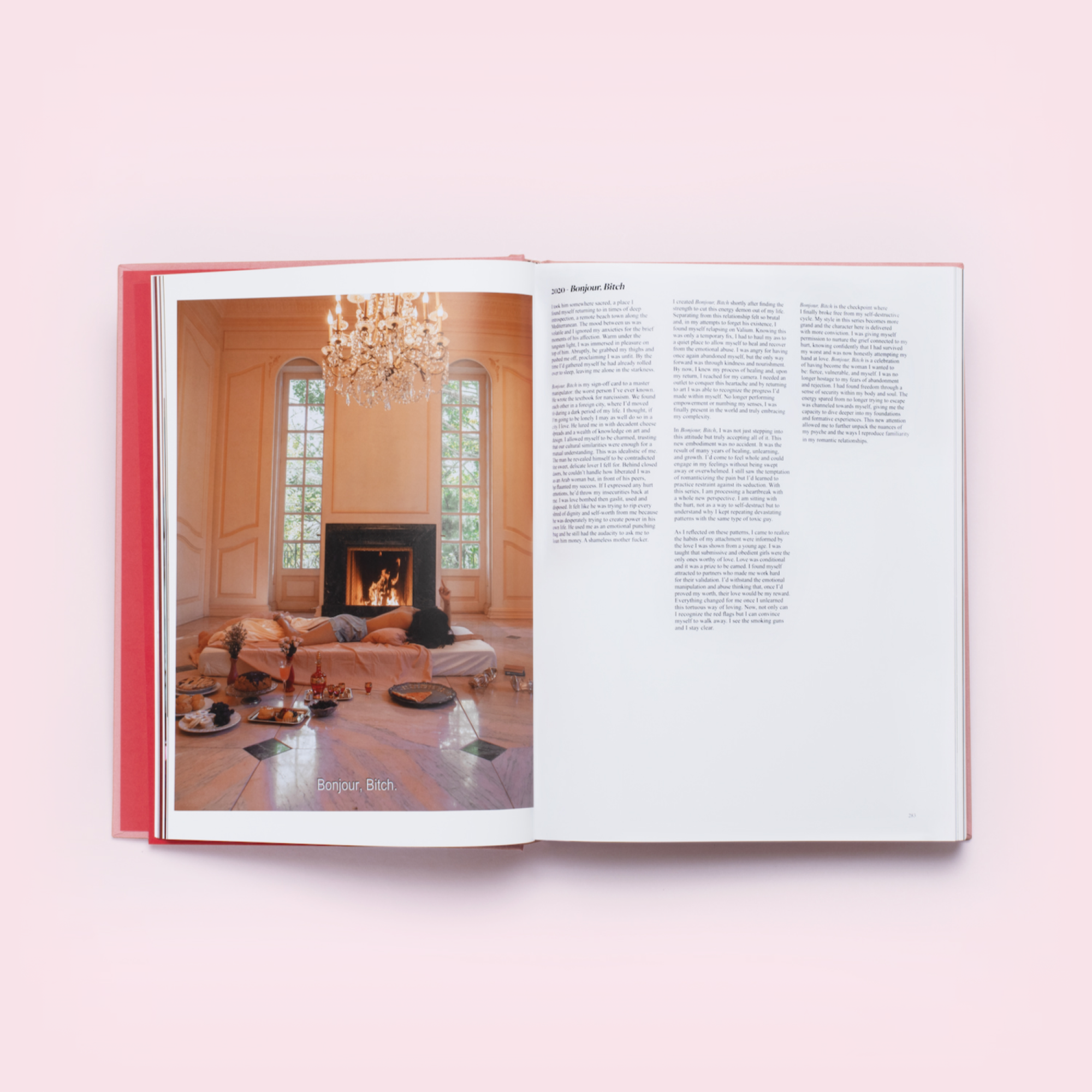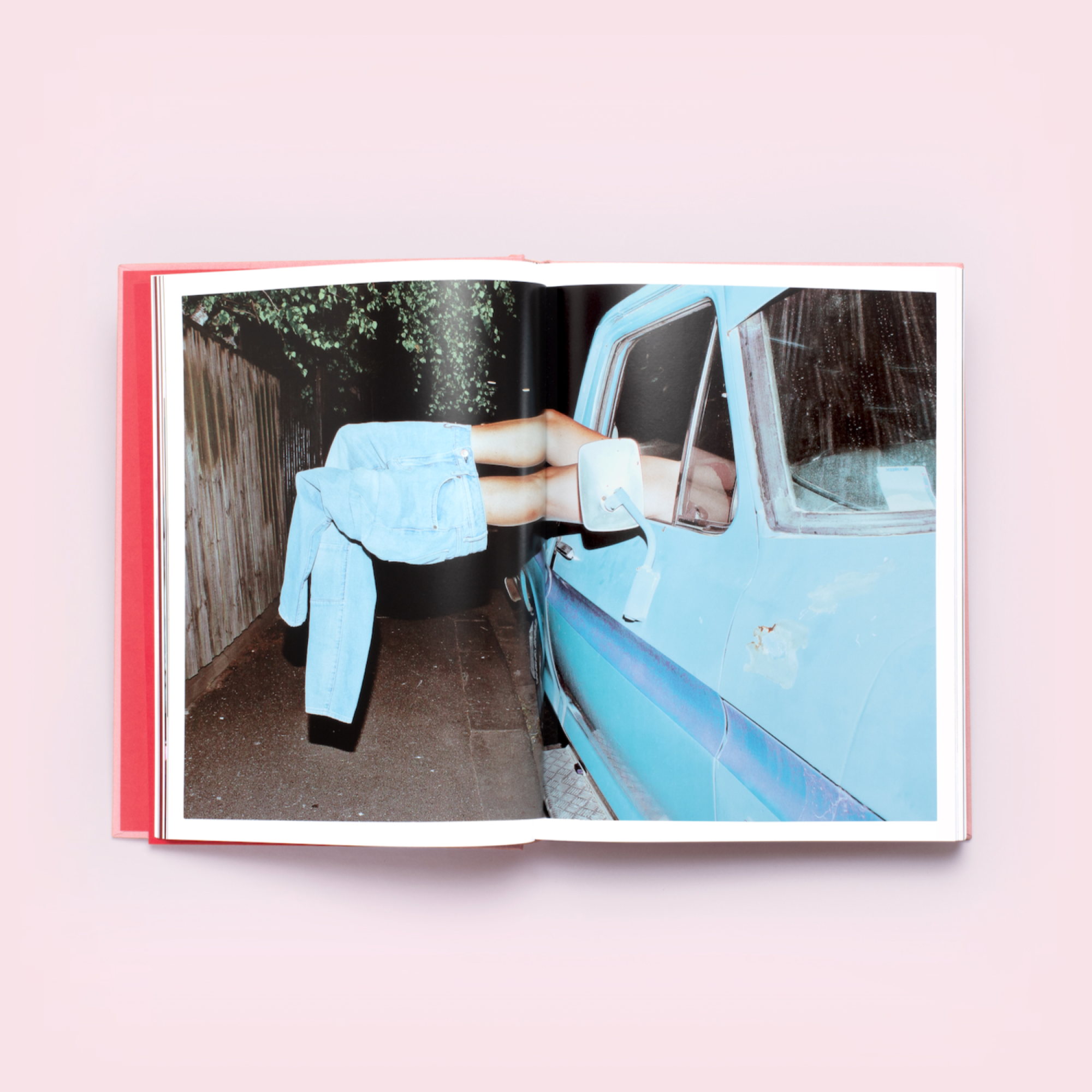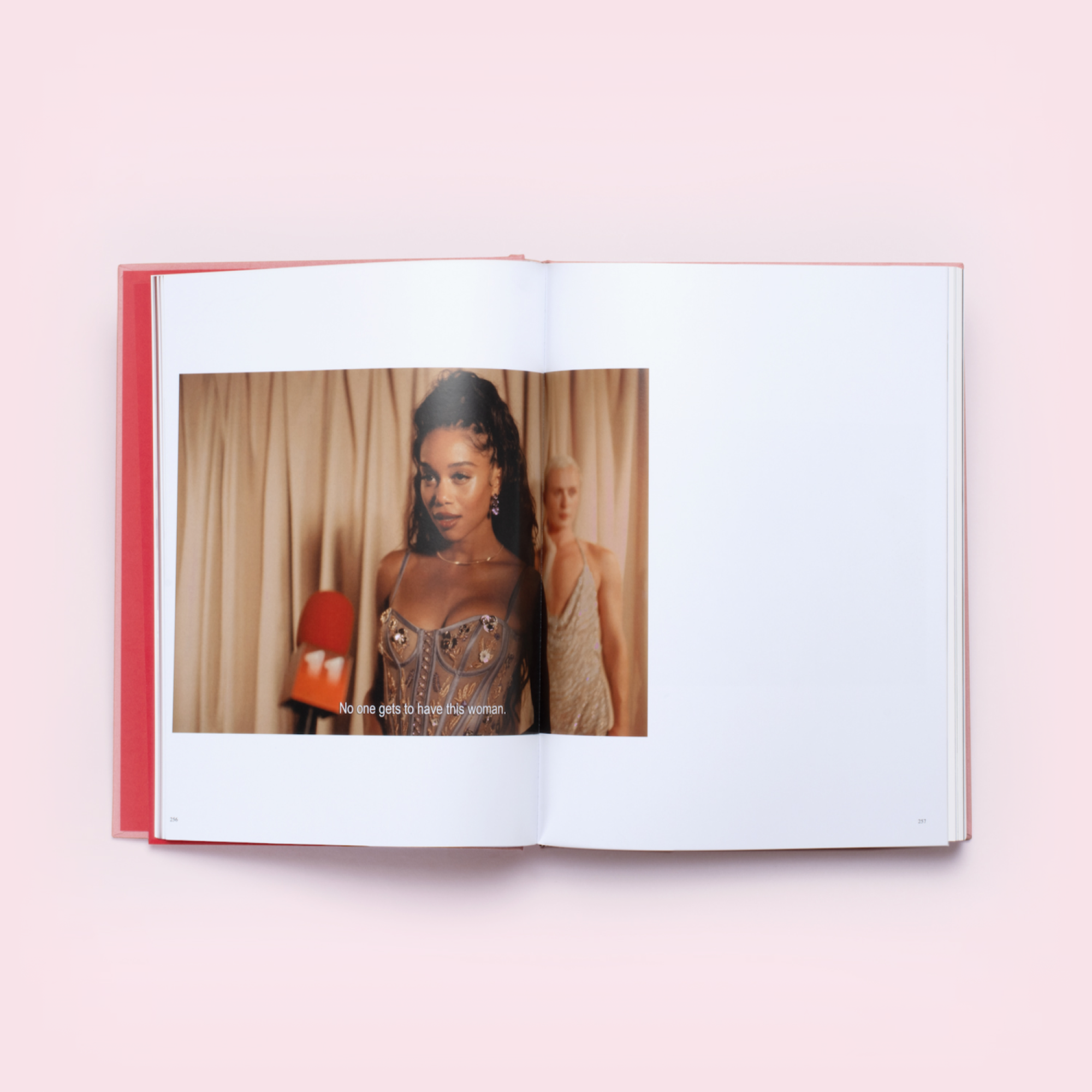 A luxury fine art book featuring a decade of photography and autobiographical storytelling by Sarah Bahbah.
Fine book linen hard cover
Metallic red hot foil stamping
Dimensions:
9.25" W x 12.25" L x 1.58" D
424 pages printed on premium matte coated paper
Over 600 photographs and an autobiography by Sarah Bahbah.
20 visual projects featured including favorites: Sex and Takeout, Bonjour, Bitch!, 3eib!, and Fool Me Twice.
Smythe-Sewn binding with woven headbands.
4 bookmark satin ribbons.
Inside the Book
With work spanning more than ten years, Dear Love is a collection of photographs that details the artistic and emotional world of visual artist Sarah Bahbah. Many of the photographs have been globally exhibited in major art fairs and solo exhibitions, and acquired by esteemed art collectors, while others have never been shown before. Bahbah's signature style places complicated emotions at the forefront of visually striking and often decadent tableaus. Her quasi-narrative photography series speak to those who lend their lives to love yet feel trapped between their heads and their hearts. As an independent artist, Bahbah single-handedly propelled her career, finding strength and inspiration from her personal experiences of trauma. Showcasing a unique understanding of her generation, her body of work presents a pivotal voice that champions emotional liberation and vulnerability.
Bahbah has been explicit about her use of art as a tool to process trauma and hurt. Although Bahbah's photographs are released as a series, the individual photographs that make up each series encapsulate whole narratives within themselves. Each photograph weaves together Bahbah's own story and fantasies. In this book, Bahbah's work has been divided among four chapters: Dear Heart, Dear Darkness, Dear Light, and Dear Love to take readers on a journey through her intricate and creative process of using art to heal and reconcile with love. Each series featured comes with an in-depth synopsis, where Bahbah gives details behind her personal, emotional journey that lead to the creation of every photograph.
Creator/Writer/Photographer/Director/ Sarah Bahbah
Cover & Book Design/ Raissa Pardini
Book Editors/ Bahar Sayed & Bobuq Sayed
Arabic Translations/ Salma ElShami & Amal Seela
Cover Calligraphy/ Salma ElShami
Forewords/ Rachel Cargle & Noah Centineo
Legal/ Audrey Benoualid
The Reviews
Jackie Fernandez
LOS ANGELES
30/10/22
For nearly ten years, Sarah Bahbah's art has been shared to communicate what you're feeling when you can't find the words. In "Dear Love," Bahbah reveals her truest self, giving us the rarest look into her artistic process. She bravely explores every facet of the human experience with such honesty that it encourages the same level of exploration within yourself. "Dear Love" is more than a coffee book, reading it feels like a hug from your best friend.
PRISCILLA DOUEIHY
LOS ANGELES
1/11/22
Empowering, honest, raw and breathtakingly beautiful. A an amazing compilation of Sarah Bahbah's works over the years, accompanied by the tales of her youth, heartbreak and growth. I lovedddd reading about a female artist who bares her soul to us in this intimate way, to immerse us in the visceral experience of being her. I was totally engrossed in her character, taking us along for the ride on her journey and expression through her art; from the innocence, curiosity and desire to the adventures, heartbreaks and breakthroughs. A visually stunning book with a memoir that stole my heart!
SEM. H
LOS ANGELES
8/11/22
Don't just look at the striking photographs. This is a coffee table book you're going to want to digest slowly and actually READ. It's a lot to take in on the heart, especially if you are actively undertaking the never ending journey of healing from trauma and toxic cycles. By Sarah sharing all her truth she indirectly teaches you how to lean into hurt and suffering to tell your story and make art you can feel. I would even go to say this book is the masterclass of using art to heal. This book is Art in every way.
A DECADE OF ART. 424 PAGES. OVER 600 IMAGES. ALL 20 PROJECTS YOU KNOW AND LOVE FROM BAHBAH'S CAREER. THIS ISN'T JUST A FINE ART PHOTOGRAPHY BOOK. EACH CHAPTER HOLDS AUTOBIOGRAPHICAL STORYTELLING BY THE ARTIST.
2015
Summer Without a Pool I
2016
Summer Without a Pool II
2017
This Is Not For You I
2017
I Love You, Me Neither
2017
This Is Not For You II
2018
I Could Not Protect Her
2020
What's Love Got To Do With It?
+ POETRY AND JOURNAL ENTRIES. AN IN DEPTH ANALYSIS OF THE CREATION OF EACH SERIES. BEHIND THE SCENES PHOTOGRAPHY & MORE.
THIS IS A BOOK ABOUT LOVE BUT MOST OF THE CHAPTERS REFLECT A LIFE WITHOUT IT OR THE KIND OF LOVE THAT BREAKS YOUR HEART OVER AND OVER AGAIN. THIS BOOK IS SELF-FUNDED AND SELF-PUBLISHED. THANK YOU FOR SUPPORTING ME AS AN INDEPENDENT ARTIST. :)
SPACING
THIS IS A BOOK ABOUT LOVE BUT MOST OF THE CHAPTERS REFLECT A LIFE WITHOUT IT OR THE KIND OF LOVE THAT BREAKS YOUR HEART OVER AND OVER AGAIN. THIS BOOK IS SELF-FUNDED AND SELF-PUBLISHED. THANK YOU FOR SUPPORTING ME AS AN INDEPENDENT ARTIST. :)
SPACING